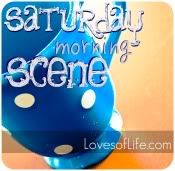 Linking up for the first time with Katie for Saturday Morning Scene.
We're sitting on the patio drinking our coffee doing some blog reading...
Watching sweet Beckett play in the yard...
And watering our new pretty spring flowers.
Perfect way to start the day. Up next is Hobby Lobby and a pedicure. Followed by taking Jeremy on a man date! Top Golf and Gordon Biersh!